Introducing the 2022-2023 Chapter Board
Chapter President: Phil Okazaki
Phil has been a massage therapist since 2001. He has worked with Chiropractors, fitness facilities, and professional and elite athletes. While currently maintaining a small private practice that focuses on Neuromuscular Therapy and Rehabilitation, he works primarily as a Massage Therapy Instructor at National Holistic Institute's San Jose Campus. "I feel it's important to be involved in the development of a Massage Therapist from the beginning. Getting them started on the right foot sets them up for career success."
"Having the privilege of serving as Chapter President, it is important for us to support each other and find ways to elevate our community." Currently, the Chapter Board is focused on providing a wide array of continuing education opportunities across the State.
"There will be re-designed initiatives to give Chapter Members an opportunity to engage with us and to contribute to the future of our Chapter through volunteer opportunities. AMTA is fully supported and sustained through member efforts.
AMTA is important to us as a profession because I feel every Massage Therapist needs a place to be heard, understood, and encouraged. AMTA on the local and Chapter level give us that opportunity. On a National level, AMTA gives our profession a voice. The only way we will ever make progress is to participate in the conversation."
Secretary: Becky Thom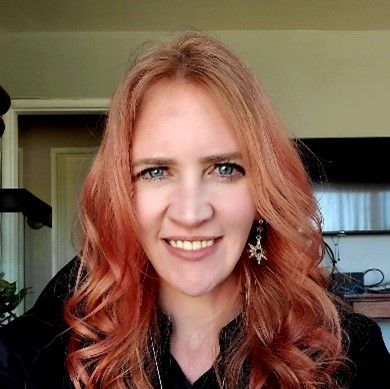 Here is what Becky has to say about herself: I am originally from Ely, MN, but have spent most of my life in California, particularly the Inland Empire.
I graduated from massage school in 2005 and went on to get my Bachelor's degree in Integrative Health from ASU. One of my greatest passions is the integration and application of Eastern and Western healthcare to affect total body health.
In my 18 years of practicing, I have worked at day spas, chiropractors, and health spas, but my true calling has always been learning and education. I am blessed to now be an educator at National Holistic University, Ontario campus. The AMTA has always been a part of my journey, even as a student, and I appreciate the networking and connectedness that the AMTA affords its therapists. I am so thankful to be elected to the Board and excited for the opportunity to meet new people, make new friends, and work at the forefront of our industry!
Financial Administrator: Michael Roberson
Michael is from Orange County has been a massage therapist since high school. He has been a member of AMTA for 18 years.
His practice, Hands On OC, has primarily focused on chronic pain relief without creating pain. He is a self-proclaimed education addict that really enjoys what he does. "There are not a lot of jobs/careers that allows you to change the quality of life in a person. Massage can and does that!"
"AMTA has offered opportunities to do what I enjoy doing: touching other people, learning more about how to touch, connecting with colleagues, connecting with community, and being able to share what I have learned in mentoring other therapists (and learn from them in the process.)." "It's been a pleasure to volunteer with AMTA all these years. Volunteering has been just one of those things since childhood. When you can connect what you love with what you are doing, volunteering can be a joy!"
Board Member: Tracy Albuera
Tracy was born and raised in the Philippines. In 1999, she moved to California and been living here since.
She has been an AMTA meemassage therapist for 7 years and is a Core Massage Therapist for Women's Tennis Association (WTA). She also work at a chiropractic office, Apple Wellness Center and do out calls for private clients.
When asked, "What does AMTA mean to you?", this is what she had to say: "AMTA means being part of a respectable organization that provides advocacy, resources, and great people who are passionate about their profession.
It means a lot to me because I get to meet people from different backgrounds and learning about the other side of Massage Therapy."
Board Member: Anna V. Beltran
Anna is from Santa Clara and has been a CMT for 4 years. She started with AMTA 5 years ago as a Student Member.
Open To Serenity, is her business name. She states that tend to use much more of the gentler modalities such as lymph drainage, CranioSacral Therapy, and Visceral Manipulation to name just a few. She started her business right out of school after getting certified.
When asked, "What does AMTA mean to you?", she says "AMTA gives us the opportunity to come together as a massage/bodywork community, to help each other grow professionally and personally through online and/or in person continued education and helps to push forward the professional status of our growing industry of professionals."